A 4 Year Journey, Leading to my 4th Winter Olympics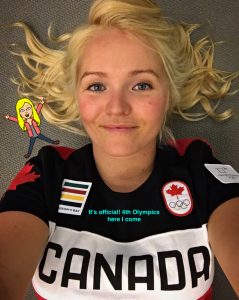 It was never a dream of mine to compete at the Olympics, as I started competing in snowboarding the Olympics became a goal. I've learned a lot in the past four years. It wasn't an easy journey, but I'm grateful to be back.

2006 My First Olympics
At my first Games in 2006, I fell in qualifiers, ending my first Olympics with the surge of revenge in my body.
2010 My Second Olympics
In my backyard at the 2010 Vancouver Olympics I made my way through qualifiers, semifinals and finals ending up top Canadian in halfpipe, 6th place. I had @marniemc2 and @rickhansenfdn asking me how I though I could do at the next Games.
2014 My Third Olympics
For my third Games, Sochi 2014 was a contest that would change my life forever. 2014 did not go many people's way, due to sever snow conditions. A crash in practice that took over two years to recover from, not knowing, only hoping I would snowboard again. Three years ago I could not have imagined my 4th Olympics being a possibility.
2018 My Fourth Olympics
I've worked my ass off to get back to sport and snowboarding, now after my hardest journey so far, I get to represent Canada at the Olympics again. It wasn't an easy journey, I'm grateful to be back. I'm so proud to officially announce that I'll be headed to my fourth Olympics! 🙋❤️🏂.
Thank you for your encouraging words over the last four years, you helped me get back to the Olympics! 😘❤️🙌.
xoxo
Mercedes
Link to YouTube video here.
More about my Olympics here.