Mercedes Nicoll Takes Over CBC Sports ? Snapchat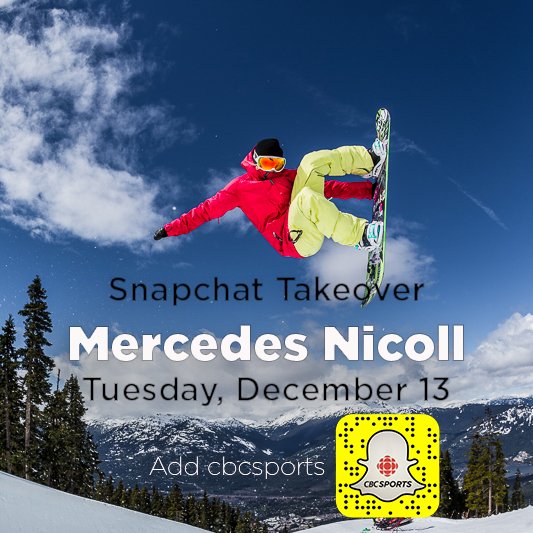 TOMORROW December 13th 2016 I'll be taking over CBC Sports ? Snapchat.
Get on your phones, head over to snapchat, follow cbcsports and mercedesnicoll, if you don't have snapchat get to it! Real time happenings of real life athletes.
I'm on the road to the 2018 Winter Olympics, this is the time we start qualifying for those Games. You may be thinking didn't we just have the Summer Games and yes you're right, but February 2018 isn't really that far away, just over a year away. Coming off a two year recovery from the 2014 Winter GamesI 've been training hard in the gym for this season to qualify for my fourth Winter Olympic Games.
I'm in Colorado right now for the first qualifying contest for the Canadian Halfpipe Team, the US Snowboarding Grand Prix, follow along tomorrow to see what a day training is like for us halfpipe riders trying to qualify for the 2018 Winter Olympic Games.
Can't wait to see you all on snapchat!
xoxo
Mercedes
Save