Halfpipe Fam Jam Photo Album
Something that started out as a couple of ideas from both Dominique Vallee and myself soon became an event. We couldn't be happier with the turnout at the ina. We have such a great community of friends in the snowboard and ski world that I consider family. Check out the photo album by Rich Glass, videos of the day and long list of friends that came out to play in the halfpipe!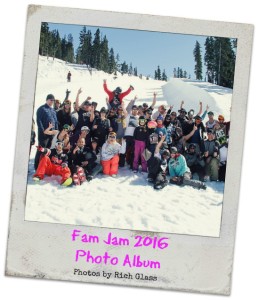 Photos are up!
Flicker album by Rich Glass Click here or the photo above.
---
Inaugural Halfpipe Fam Jam
Old friends, new friends, kids, snowboarders, skiers, tunes pumping, sun shining for our Inaugural Halfpipe Fam Jam. What an amazing day! Mother Nature was on-board and cooperated, that's what happens when it's not a contest, the sun shines. We had the best MC's in the world Chris 'Nix' Nicholls and Steward Andrews in fine form coming up with contests throughout the day; biggest air, best handplant and shirts off for Dom's birthday. These two teaming up made the event having never MC'd together we knew it was bound to be a good time. They call it how it is!
Whistler Blackcomb, Oakley Canada, World Ski and Snowboard Festival – WSSF shared the love of the Halfpipe Fam Jam. We had three different generations of snowboarders and skiers hiking the Blackcomb halfpipe April 9th 2016. Thank you everyone that came out if you're sad you missed out or couldn't make it don't worry we'll be there next year and we can't wait!
Whistler Blackcomb April 9th edit
Mike Hart with the session ending mctwist
---
'Till Next Year
Thank you!
Friends and Family
Aaron Santos
Adam Levitt
Akasha Weisgarber
Ali Tracy
Alison Pasemko
Amanda Mourant
Andrea Volker
Anna Ruth
Audrée Duclos Paré
Barker Matt
Billy Pelchat
Brendan Davis
Candice Drouin
Carter Smith
Charles White
Chris Brown
Claudia Bambi
Dan Raymond
Darryl McDonald
David Porchron
Derek Livingston
Dom Vallee
Gabe Langlois
Gabriel Authier
Genevieve Strachan
Ikka Backstrom
Jen Girardi
Jesse Kumlea
JF Pelchat
Joe McAdoo
Joel Loverin
Josie B.
Juliette Pelchat
Justin Lamoureux
Kelly Kaye
Kevin Hole
Kimmie G
Kyle Thomas
Leah Veronica
Maggie Crompton
Marie Kosmik Fortin
Marie-Laurence Héon
MC
Mike Augeris
Mike Hart
Miller Time
Nix oo
Olivier Roy
Phill Alexander
Phillip Maclarn
Rob Picard
Robert Fagan
Rube Goldberg
Sam Weston
Sarah Kopinya
Scotty Newman
Steph Meagher
Stuart Andrews
Sydney Bey
Todd Malus
Tom Velisek
Tosh Osaka
Travis Williams
Whistler Valley Snowboard Club
Zachary Wade
Whistler Blackcomb
Oakley Canada
WSSF
Dom Vallee
xoxo
Mercedes