RBC Sports Day Twitter Challenge

RBC Sports day in Canada is just around the corner, November 21st. RBC Sports Day is a national celebration of the power of sport to build community and get Canadians moving.
---
WHO
5 RBC Olympians;
 
Mercedes Nicoll

Snowboarding

Patrick Chan

Figure skating

Brad Jacobs

Curling

Marie-Philip Poulin

Women's hockey

 
Cassie Hawrysh

Skeleton
Have taken on the RBC Twitter Challenge from November 1st-15th, raising funds for our chosen kid sport organizations and I need YOUR help.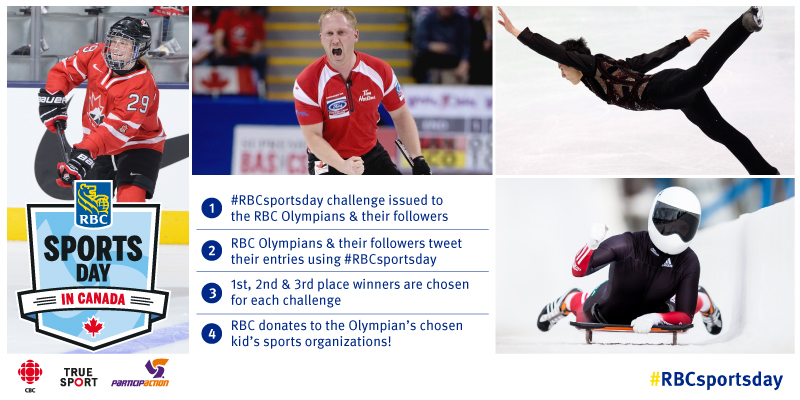 ---
When
The Challenge is from November 1st-15th.
#RBCsportsday Challenge
Date
Twitter winner
RBC Olympian winners
1. Share your fitness photo
Nov 1-3

@

RyanPekkaKangas
2. Share your sports celebration photo
Nov 4-6
@MarthMcC
 
3. Share your celebrity selfie
Nov 7-9th
4. Share your pre-competition ritual
Nov 10-12th
 @Tyler_Mills
5. Share your best Throwback Thursday
Nov 12-14th
November 15th Find out how much we raised for the Whistler Blackcomb Foundation!
---
Where
You can find the challenge on TWITTER.
To get a better idea of how it works, here are my photos so far;
---
How YOU can Help & WIN
Share your challenge photos with  me @mercedesnicoll
use the #RBCsportsday hashtag

that is your entry to win a prize and help me raise funds for the Whistler Blackcomb Foundation!
---
What's in it for You?
Not only will we be raising funds for our chosen kid's sports organization, you could win a prize as well, follow #RBCsportsday join in on the challenge and tweet me your images.
There are 5 challenges, tweet me your fitness photo, help spread #RBCsportsday around the nation, and help me support my kid's sport organization, The Whistler Blackcomb Foundation.
---
About The Whistler Blackcomb Foundation
The Whistler Blackcomb Foundation is an organization that raises funds for registered Sea to Sky charities, making it the largest fundraising organization in the area. Growing up in the Sea to Sky area, Whistler to be exact, this foundation is my choice because it supports so many great organization, to name a few;
Whistler Minor Baseball, Whistler Seawolves Swimming Club, Whistler Youth Soccer Association & Whistler Community Services Society, Whistler Gymnastics Club, Disabled Skiers Association of BC, Kelty Dennehey Foundation, Pemberton Skateboard Society, Pemberton Youth Soccer Association, Playground Builders Foundation, Sea to Sky Baseball Associationm,Whistler Adaptive Sports Program. For a full list of organizations The Whistler Blackcomb foundation support click the link wbfoundation
---
WB Foundation & Me

The Whistler Blackcomb Foundation supports some organizations that helped shape the person I am now;
Whistler Skating Club, before I was a snowboarder I competed as a figureskater.
Whistler Valley Snowboard Club, is the club that helped me get to my first snowboard contests.
Canadian Snowboard Federation, is the Canadian National Snowboard team that I have been apart of for 15+ years.
---
WB Foundation and KidSport
The Whistler Blackcomb Foundation also affiliated with another great organization that I work closely with, KidSport. The WB Foundation is the title sponsor for KidSport in Whistler and a major funder for the KidSport in Squamish.
Lets make this RBC Sports Day a HUGE celebration!
Together we can get Canadians MOVING!
xoxo
Mercedes Nicoll
RBC Olympian