Walk a mile in her shoes! See you this Sunday boys!
April 12th 4pm, Whistler Village.
  Stand up for the prevention of violence against women!
A sight to be seen, men walking a mile in heels!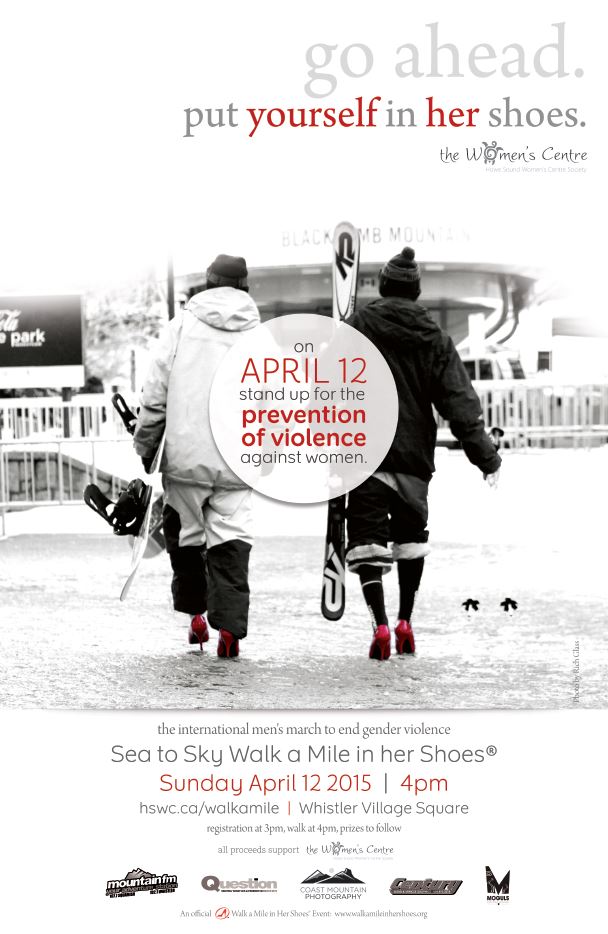 Come out and stand up for the prevention of violence against women!
Walk Starts: 4:00 pm
We are encouraging participants to raise a minimum of $25 in pledges
Prizes awarded for the top pledges!
All proceeds support programs of Howe Sound Women's Centre Society.
Despite the seriousness of the topic, Sea to Sky Walk a Mile in Her Shoes is a fun family event! Men are encouraged to gather pledges and bring awareness about the event as they prepare for the big day in which they will march approximately one mile in women's high heel shoes! Friends and family are encouraged to march as well in support of the well-heeled participants!
We encourage you to have fun forming teams and challenging others from your place of work, your family or your friends! We also ask that the walkers dress as they normally would and strongly encourage uniforms and work gear (no women's clothing please)
You can encourage friends and families living out of town to pledge by guiding them to www.canadahelps.org, where they can make a donation to the Howe Sound Women's Centre Society in your name as you simultaneously record this amount on your pledge form.
xoxo
M
Xoxo